Electroplating Power Supplies: Excellence in Precision and Efficiency
Introducing Kirchner Galvanik, the leading partner in electroplating power supplies and electroplating rectifiers that incorporate cutting-edge features tailored to today's dynamic needs.
Electroplating Power Supply: Beyond Precision
At the heart of this perfection is an advanced electroplating power supply. We've designed and engineered them to be the leading edge. Equipped with high-precision, current-regulating plating rectifiers, our power supplies ensure up to 0.5% plating accuracy. The result? Electroformed parts with unmatched precision and consistency.
Smart features for today's electroplating needs
Amp-hour meter: (Ah-Meter): Monitor and manage your plating sessions with a built-in ampere-hour meter designed for professionals who demand real-time data.
  
Timer function:  Our plating power supplies come with a unique feature that maintains potential power output even after a scheduled period of time has elapsed. No interruptions, just seamless operation.
  
Multi channel power supply: Increase the efficiency of your setup with our Multi-Channel Rectifier, an electroplating power supply designed for simultaneous plating operations.
  
Power supplies for Nickel Bond Diamond Tools Dive into niche plating with our nickel-bonded diamond tool plating rectifiers that ensure pristine finishes and extended tool life.
  
Monitoring and safety: Our plating power supplies are equipped with real-time short and open circuit alerts to ensure your tools are plated properly.
  
Energy-Efficient Electroplating Power Source: With a focus on sustainable operations, our equipment is designed to be energy efficient, ensuring optimal performance with minimal energy consumption.
Why Kirchner power supplies and rectifiers?
Unmatched Expertise: 20 years in the electroplating industry has made us a partner with expertise that translates into products that are ahead of their time.
  
Relentless Commitment to Quality: Every electroplating rectifier for electroplating, is a tested and calibrated. All of our rectifiers undergo rigorous quality checks.
  
Customer First: At Kirchner Galvanik, relationships are for years. Our team is always ready to assist you and ensure that your electroplating process is seamless.
  
Innovation at the Heart: Our R&D teams are at the forefront of innovation, ensuring that our electroplating power supplies remain at the forefront of technology.
In essence, Kirchner Galvanik isn't just a supplier, but a partner committed to driving your plating process to absolute perfection.  Our advanced features and commitment to quality ensure that with every layer you add, you're creating a masterpiece. With Kirchner Galvanik, you're not just plating, you're building the future.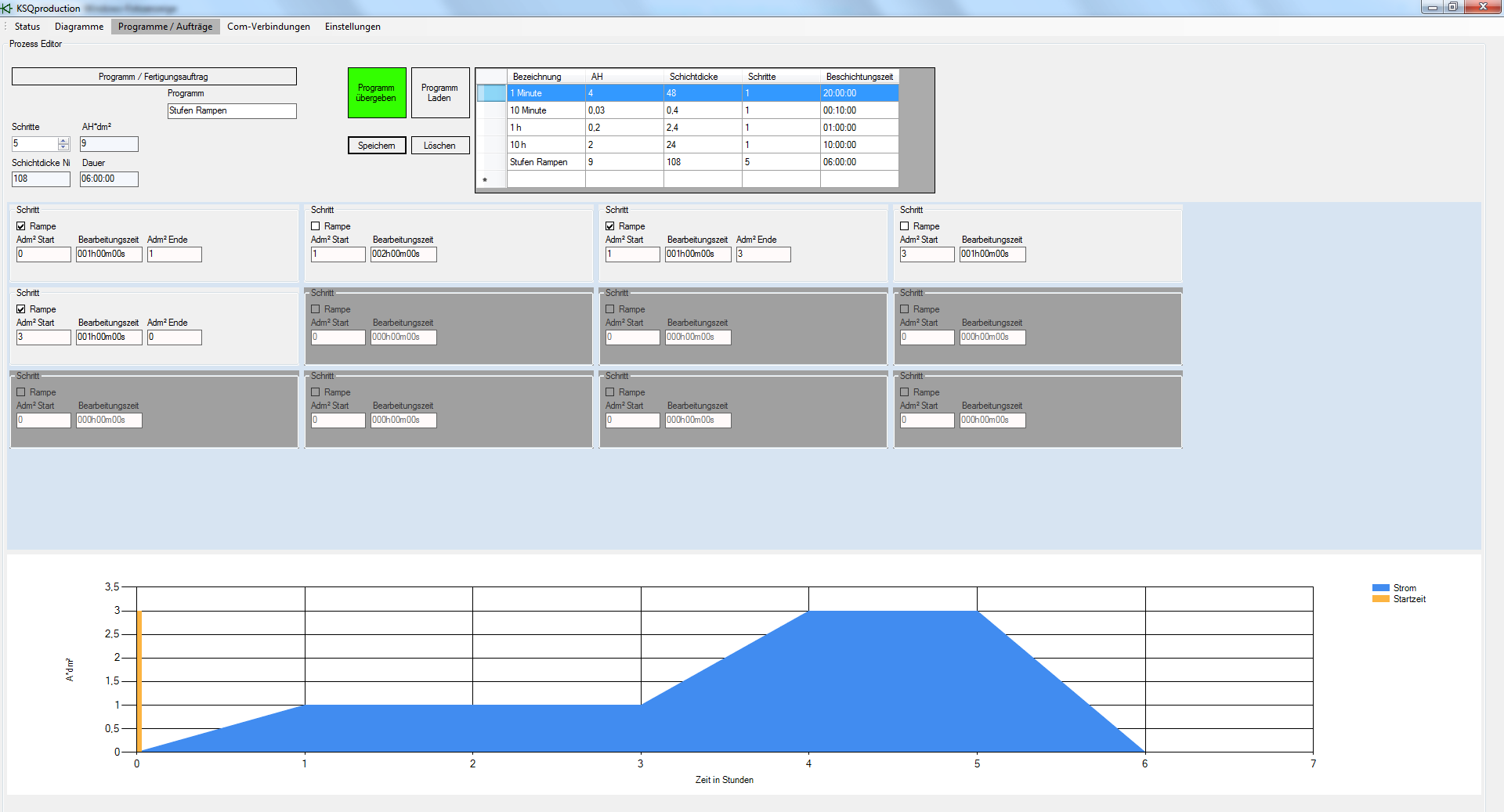 Software to monitor and to control all Kirchner electroplating rectifiers. This speciall software provides speciall features created for grinding and electroforming industrie.
Our KSQproduction software offers this speciall features:
Control of up to 24 KSQ galvanic plating rectifiers by one PC
Transfer and processing of production orders up to 12 individual current programs with steps + ramps
Plating time up to 1000h for each single step
Data recording for each plating rectifier (current / voltage / production order / current program)
Definition and save of individual current programs
Display of production data in diagrams
Display and document production parameters down to each work order.