KSQproduction Software - Production control with power programs and quality assurance for galvanized diamond superabrasiv dressing tools
The KSQproduction software offered for our power sources is ideal for the production of galvanically bonded grinding tools.KSQproduction is adapted to the requirements of both Positv and also Negative galvanically bonded grinding tools.
KSQproduction software enables the following functions with the KSQ galvanic rectifier:
Control of up to 24 KSQ galvanic rectifiers by a PC Electricity
plans up to 12 individual steps Programs with ramps with up to 99 repeats each
Coating time up to 1000h per single step (12000h maximum running time of a coating program)
Data recording and quality assurance (current / voltage / production order / power program)
Creating and saving power plan programs
Display of production data in diagrams
Tracking and documentation of production parameters down to the production order level.
Diagram view - Electroplating current process and process control of the current production order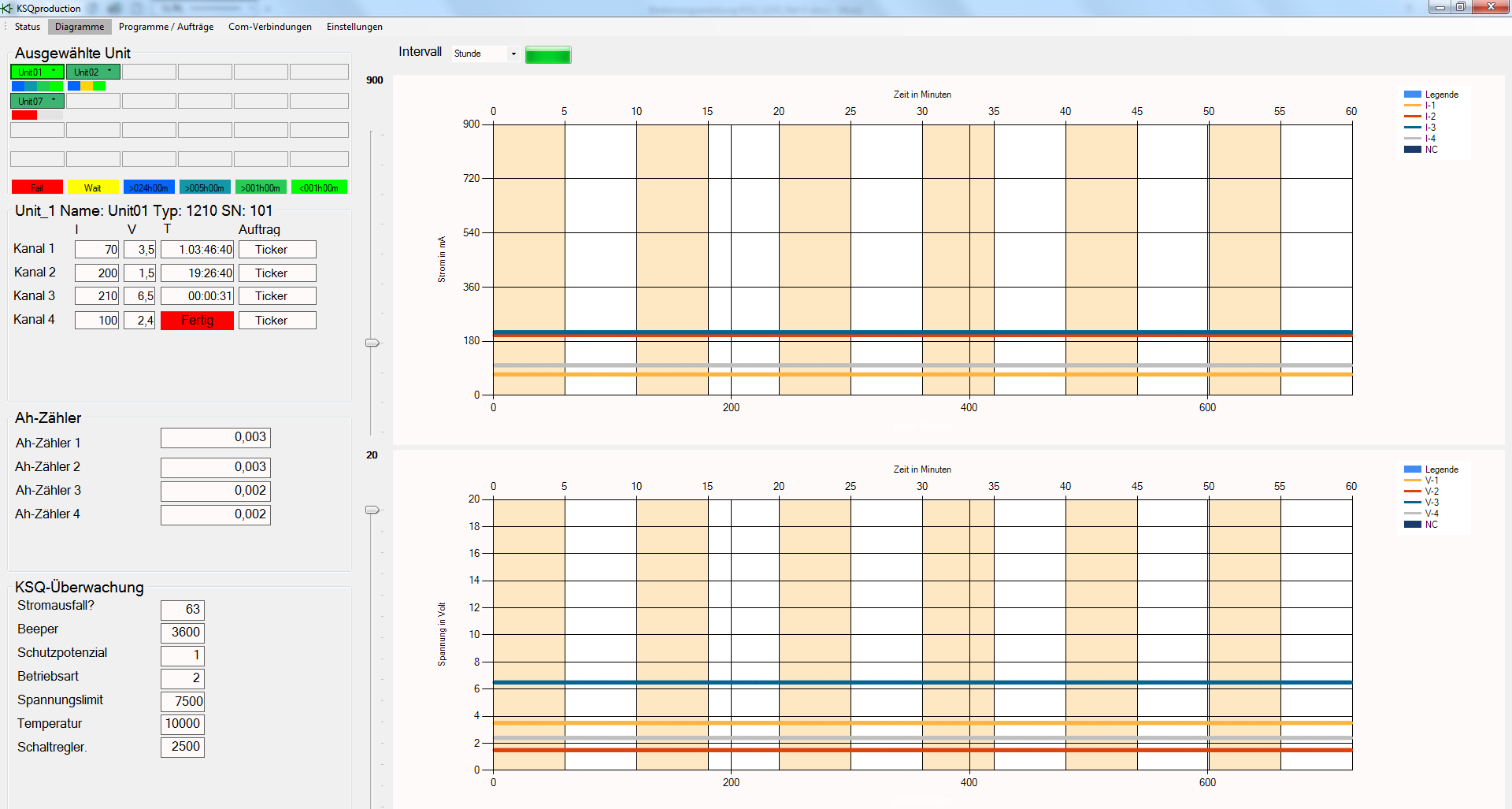 The diagram shows all the essential function parameters of a single connected KSQ12XX unit. These are current, voltage, time current diagram to current and voltage up to one year in the past. AH Current operating conditions of the indicated KSQ unit. Power tools and jobs - Create coating programs and manage production orders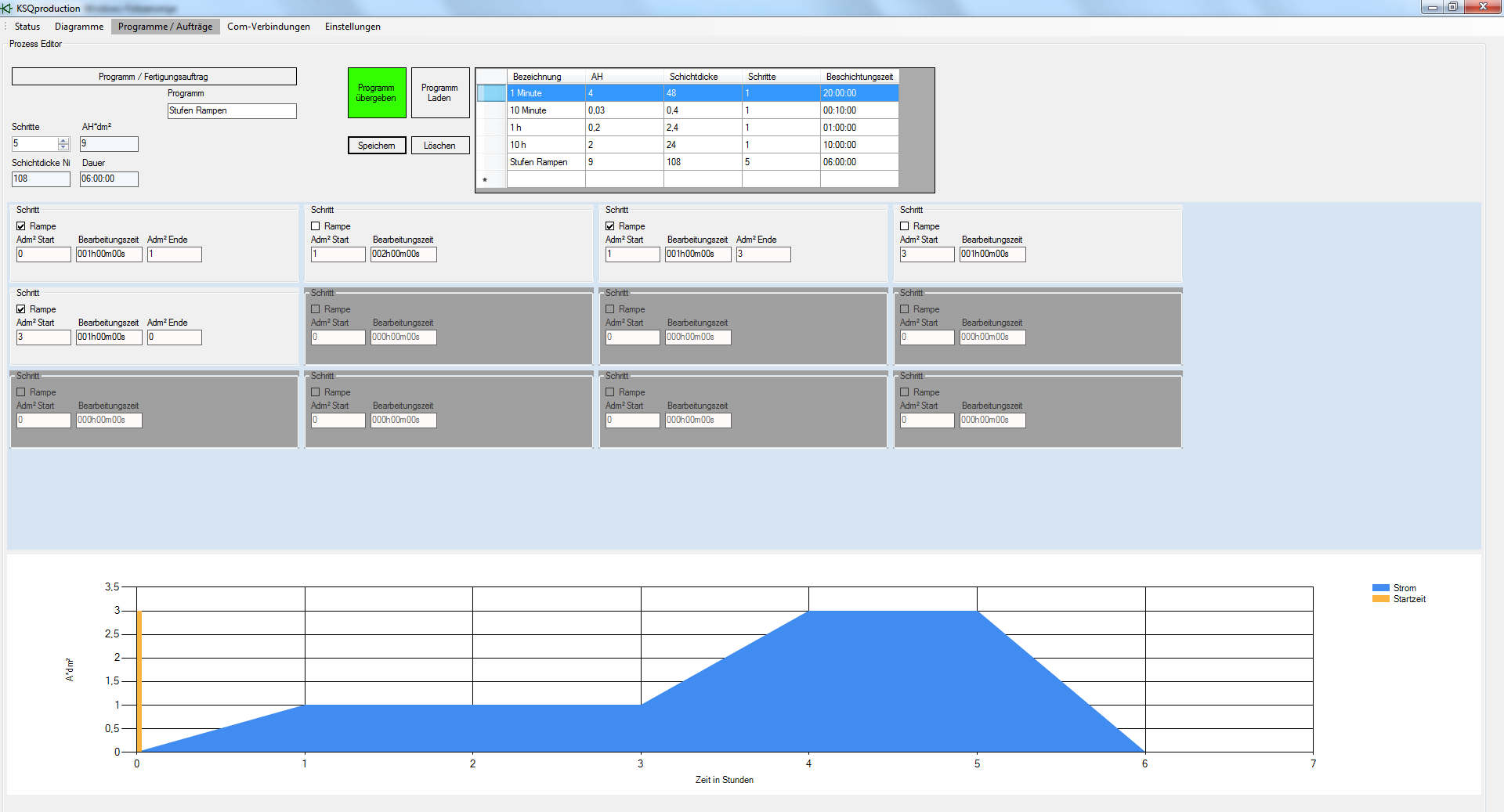 The programmer "Programs / jobs" is used to create power programs and transfer them to the galvanic rectifiers.
In general it is possible:
Power programs with up to 12 individual steps including ramps
Coating time from 1s to 999h for each step
Status View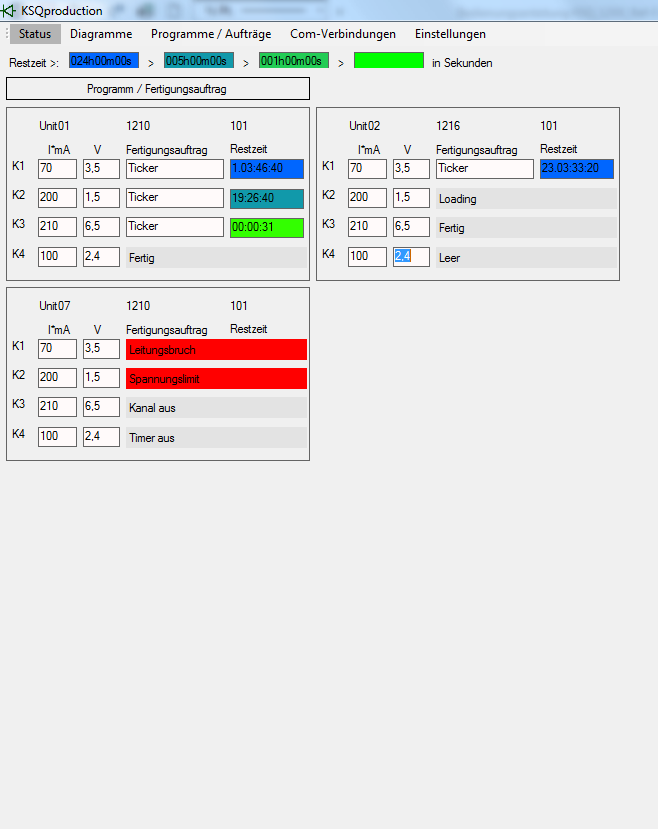 The status overview shows the most important operating states of all connected KSQ galvanic rectifiers.
Up to 24 galvanic rectifiers can be monitored and controlled via a USB-RS232 connection cable with a single PC.
The operating state of the KSQ rectifiers is displayed in a table view.