Galvanic manufacture of nickel-bonded diamond tools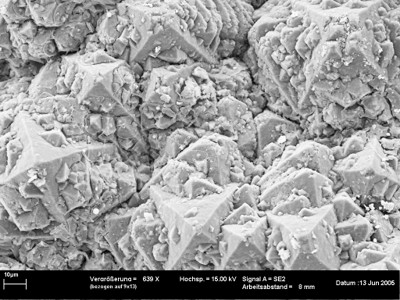 To manufacture and dressing of grinding tools, diamond tools are often used. Especially in complex geometries such as dressers, gear cutting tools or profile rollers are used with nickel bonded diamond tools. At these extremely high standards for dressing the precision of the tilt of the tooth flanks and uniform patches are made of diamond. Typically, these types of diamond dressers are produced by electroplating. Kirchner electroplating rectifier have been especially adapted  for the production of these nickel-bonded tools.
Outstanding characteristics of our power current supply sources are:
Reduce scrap and defects during the manufacturing process.  
Open circuit and short circuit monitoring.
Ampere-hour meter for throughput-driven care of galvanic nickel baths.
Reduction of bud growth on the diamond by ripple-free linear regulator technique.
Deposition with timing and automatic current reduction after passing the prescribed process time.
Automatic potentiostatic protection after the end of the given process time.
Multi-channel structure for the parallel production of up to four dressing tools in an electroplating bath.